P4MAM2-V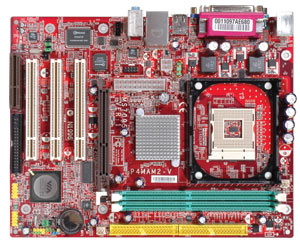 <![if !vml]><![endif]>
● 9.57 in.(L) x 7.44 in.(W); Micro-ATX
● 2 DIMMs w/ DDR266 upto 2GB
● 1 AGP 4X; 3 PCI; 8 USB
● 6 Ch. Audio; 10/100 LAN; ATA133
● S3 Graphics ProSavage8 Integrated Graphics core upto 32MB of video memory
● Live Update; Fuzzy Logic; PC Alert
MSI Part No: MS-7095-010
■■■ CPU ■■■
● Socket 478 for IntelR P4 Celeron/Northwood/Prescott/Prescott Celeron CPU
● Supports up to 3.06GHz with FSB 400/533MHz
● Supports Hyper-Threading Technology
■■■ Chipset ■■■
● VIAR P4M266A (VT8751A) Chipset (664 BGA)
- 64bit P4 processors FSB I/F (533MHz).
- 64bit DDR SDRAM memory I/F (200/266MHz)
- 32bit AGP I/F (66MHz) for 4x/2x mode
- 8bit V-Link I/F (66MHz) with peak bandwidth of 266MB/s
● VIAR VT8237 Chipet (487 BGA)
- Integrated Hardware Sound Blaster/Direct Sound AC97 audio
- Ultra DMA 66/100/133 master mode PCI EIDE controller
- ACPI & PC2001 compliant enhanced power management
- Supports USB2.0 up to 8 ports
■■■ Main Memory ■■■
● Supports Four memory banks using two 184-pin unbuffered DDR200/266 DIMM.
● Supports up to 2GB memory size.
● Supports 2.5v DDR SDRAM.
Due to the High Performance Memory design, motherboards or system configurations may or may not operate smoothly at the JEDEC (Joint Electron Device Engineering Council) standard settings (BIOS Default on the motherboard) such as DDR voltage, memory speeds and memory timing. Please confirm and adjust your memory setting in the BIOS accordingly for better system stability.
Example: Kingston HyperX DDR500 PC4000 operates at 2.65V, 3-4-4-8, CL=3.
For more information about specification of high performance memory modules, please check with your Memory Manufactures for more details.
■■■ Slots ■■■
● One AGP (Accelerated Graphics Port) 2X/4X slot.
● Three PCI 2.2 32-bit PCI bus slots (support 3.3V/5V PCI bus interface).
● One CNR (Communication Network Riser) slot.
■■■ BIOS ■■■
● The mainboard BIOS provides "Plug & Play" BIOS which detects the peripheral devices and expansion cards of the board automatically.
● The mainboard provides a Desktop Management Interface (DMI) function which records your mainboard specifications.
■■■ On-Board IDE ■■■
● An IDE Controller on the VT8237 chipset provides IDE HDD/ CD-ROM with PIO, Bus Master and Ultra DMA133/100/66 operation modes.
● Can connect up to four IDE devices.
■■■ Video ■■■
S3 Graphics ProSavage8 Integrated Graphics core upto 32MB.
■■■ Audio ■■■
AC'97 link controller integrated in VIAR VT8237
VIA VT1617A 6-channel S/W audio codec.
- Compliance with AC97 v2.2 Spec.
- Meet PC2001 audio performance requirement.
■■■ LAN ■■■
VIA VT6103L PCI loval bus single-chip Fast Ethernet Controller.
- with external 10/100 Base-T LAN transformer.
- Integrated Fast Ethernet MAC and PHY in one chip
- Supports 10Mb/s and 100Mb/s auto-negotation operation.
- Compliance with PCI v.2.2 and PC99 standard.
- Supports ACPI power management.
■■■ On-Board Peripherals ■■■
- 1 floppy port supports 1 FDD with 360K, 720K, 1.2M, 1.44M and 2.88Mbytes
- 1 serial ports (COM A)
- 1 parallel port supports SPP/EPP/ECP mode.
- 8 USB ports (Rear x 4/ Front x 4).
- 1 RJ-45 LAN jack
- 1 Line-In/Line-Out/Mic-In port
- 1 VGA port.
■■■ Dimension ■■■
9.57 in. (L) x 7.44 in.(W) MicroATX Form Factor
■■■ Mounting ■■■
6 mounting holes